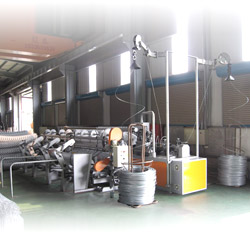 Description :
The high speed model of the automatic chain link fence making machine is equipment with advanced servo motor & Siemens driver. It's equipped with twin worms weaving arrangement and has a producing capacity of about 1,700 square meter per 8 hours. The chain link fence is used widely in school zones, parks, industrial areas, companies, basketball/tennis courts, on the sides of the highways, airports, and many many more.
Specification :
1. Fence height: max. 4 meters.
2. Mesh eye: 25mm ~ 90mm.
3. Wire gauge: 2.0mm ~ 4.8mm (Galv. wire).
4. Motor: 15 HP servo motor (siemens driver upon request).
5. Productivity: 1,700 meter square /8 hours (3.2mm x 2" x 2M).
6. Wire material: galvanized wire, PVC coated wire.
7. Floor space: 3.6M (W) x 6.0M (L) x 3.15M (H).
8. Voltage: as required by customer.