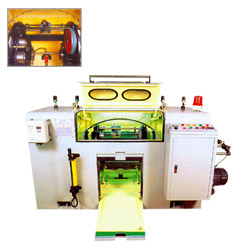 Detail Information
Description :
1. High productivity and stability are ensured under continuous operation.
2. The machine is manufactured after a series of tests with all sorts of insulated material.
3. The shapes of screws depend on what kinds of insulated materials are used.
4. Their accuracy and durability are both very high.
Specification :
1. With respect to plastic extruder, electrical heating and air cooling method is adopted, the temperature is controlled automatically.
2. While operating, the speed of the machine is controlled with steplessly connected coupling method.
3. Other speed-control methods can be adopted, if necessary. Various kinds of auxiliary equipments, e.p. Wire supply stand, capstan and take-up stand are also manufactured.
4. We can custom products according to clients' requests.